Independent financial - how to become one
Becoming an independent financial is not a quick process, but there is an easier way than figuring out everything by yourself. Are you dedicated enough to obtain a certificate? It's proof that you are on the right path to achieving financial freedom.
How to obtain your certificate
Follow the steps below to get your certificate:
Learn and engage
Explore the ebooks and audiobooks included in the Complete Business Essentials package. Gain familiarity with essential business categories and find the inspiration to kickstart your venture.
Plan like an independent financial
Utilize the planners and reference guides to apply your newfound knowledge. Build a strong foundation for your business and personal development goals. Leverage additional planners for future endeavors to gain an advantage in every challenge.
Capture your progress
Take pride in your progress! Fill out the planners, complete the tests, and engage with the worksheets to document your learning journey. You can always print a new source of materials, no worries!
Share your achievements
I value your dedication, and I want to celebrate your success with you! Snap a photo of your filled planners, completed tests, and insightful worksheets.
Submit your photos
Once you're ready, share your achievements with us by submitting your photos. Post a photo on Instagram or other social media with #CertifiedFutureCrafter.
Receive a certificate and become an independent financial
After reviewing your submission, I'll proudly present you with your Certified Future Crafter Certificate. This certificate acknowledges your commitment to learning and personal growth. It's a way to show your hard work and dedication. I hope that it will be your source of motivation for every venture you want to start!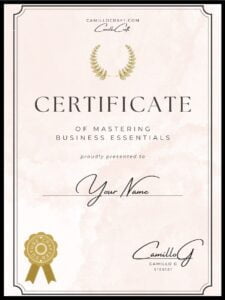 Journey to becoming an independent financial
Get your copy of the Complete Business Essentials today!
I wish you the very best and good luck on your journey to independent financial success!
Feel free to check my YouTube channel for more insights in the future!